101+ Stocking Stuffers for 11 Year Old Girls (Small Gift Ideas)
I created this list of small gift ideas for 11 year old girls because it's way too easy to blow a bunch of money on junk that gets tossed in the garbage the next day.  I have four kids and I used to think, no way I'm going to load up on dollar store stuff when I could actually buy some really nice small gifts that will have an impact.
These small gift ideas are great for Christmas stocking stuffers and Operation Christmas Child shoe boxes.  They're really small, fun gifts that don't break the bank but get a lot of use.  I use a lot of these ideas for Easter basket stuffers too, because why buy junk and candy, right?
We usually have a few big gifts but then we get a lot of smaller gifts and toys like these to make the bottom of the Christmas tree feel a little fuller at the holidays.  Kids love to unwrap gifts and when you get them cool little things like these they can unwrap a lot more of them.
---
Really Awesome Stocking Stuffers for 11 Year Old Girls
I wanted to start off with some of my more popular small gift ideas and then as you go down the page you'll find some more cool stuff too. I love little gifts like these because I can either wrap them up for under the tree or use them as really cool stocking stuffers!
Hello Gorgeous Compact Mirror
Texting Cuffs Thumb Cuffs
Decorate a SpinBrush
Stikbot for Stop Animation
Colored Clip in Hair Extensions
Jelly Rainbow Watch
Katy Perry Purr Perfume
Naturopathic Vitamin for Tween Girls
Money Soap
---
Super Cute Stocking Stuffers for 11 Year Old Girls
Fingerlings – Interactive Baby Monkey – Bella
These little buddies sit on their finger and look oh so cute doing it!
Fingerlings respond to different motions that you make, they even blow kisses back to you.
Twirl their hair, pet their heads and watch how they interact with you.
Fingerlings will grab fingers and hold on to pens – making them a cool homework hangout buddy.
There are a few different kinds of these cute monkey's, this pink one's name is Bella.
---
Speaking of Fingers, Aren't These Lovely Stocking Stuffers?
Look at these pretty false nails for girls, what 11 year old girl wouldn't want to wear these pretty nails? False nails are a great stocking stuffer gift idea that allows an 11 year old girl to express her style. My daughter loves fake nails and these are pre-glued so you literally only have to press them on and go!
Cute Pink Heart Press On Nails
Pretty Rainbow Press On Nails
Cute Animal Girls False Nails
---
Singing in the Shower Just Got Cooler Girls!
SoundBot Water Resistant Speaker
These shower speakers are the best because they are water resistant and stick to the side of the shower.
It's nice to be able to listen to your music without having to worry if you're phone is going to get wet.
What I like about these is they are really small and portable. Super easy to use too.
My 11 year old uses this in the bathroom but also outside near our pool.  
These fit perfectly inside a Christmas stocking for your 11 year old girl!
---
Keeping Little Brothers Out Since Forever
All 11 year old girls should own a diary because it's a great way to get them writing and expressing their thoughts.  My daughter loves her diary, she writes personal things, draw pictures and makes wish lists.  She's had a diary for a little over a year now and she loves having a place to put all her thoughts and ideas.  If you're going to buy a diary for an 11 year old, make sure it's got a lock – because those thoughts are top secret!
Sweet Dreams Diary with Lock
Puppy Love Diary with Lock
Journal with Combo Lock
---
This is a Beautiful Small Gift Idea for an Eleven Year Old Girl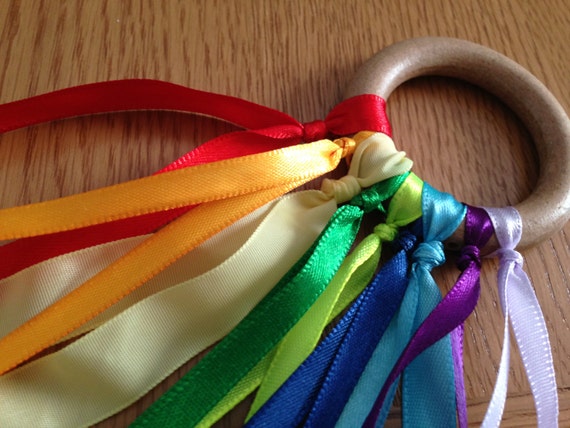 Hand Kites
These hand kites are beautiful small gifts for an 11 year old girl.
She can grab hold of the handle and spin, twirl and run and make rainbows with this hand kite.
For the price, it's a great small gift idea because it's unique and entertaining in the most simple way.
She can run through the open fields or just twirl around her living room, these hand kites produce an array of color that is memorizing to watch.
---
Fitness Trackers are Awesome Small Gift Ideas for 11 Yr Olds
These fitness trackers are cool because you can actually see how active your child is and well their sleeping habits are. The sleeping trackers are really great because I've noticed that there are patterns of sleep where she doesn't get the best rest and the next day, we know it! My daughter loves knowing how many steps she walked that day, it's almost become a game to her.
Kids Fitness Activity Tracker
Kids Fitness and Sleep Tracker
Kids Fitness Tracker Pedometer
---
Smencils are Cool Stocking Stuffers for 11 Yr Old Girls
Smencils are all the rage with my 11 year old, she trades them with her friends all the time.  They are stored in these little containers that hold the smell to them longer.  Each little container has a little topper that shows you what scent is inside.
Scentco Graphite Smencils 5-Pack of Scented Pencils
Sweetheart Smencil 5-Pack of Scented Pencils by Scentco
Holiday Smencils 5-Pack of Scented Pencils by Scentco
---
Stocking Stuffers that Light Up Christmas!
What 11 year old doesn't appreciate gifts that light up like these?  The flashing finger gloves are really popular because you can do really awesome choreography in the dark.  It's crazy the talent your hands have with these gloves on – for the price, they're totally awesome small gifts.  Light up the room with an LED beanie or some shoelaces?  Imagine the cool dance moves you can make in the dark with these?
LED Light Up Gloves
Light Up Hat
LED Shoelaces
---
Sporty Stocking Stuffers for 11 Yr Old Girls
No-tie shoelaces are great for sports and fitness.  My daughter absolutely loves hers because who wants to bend down to tie their laces? Not her apparently.   They are really inexpensive gifts that get a lot of use out of them because kids wear their shoes daily.   She used to double knot her laces just to keep them secure, with these, she doesn't have too.
No Tie Elastic Shoelaces
No Tie Kids Laces
No Tie Flat Laces
---
5 People Can Listen to the Same Song on the Same Device
Belkin RockStar 5-Jack Multi Headphone Audio Splitter (Blue) (F8Z274btBLU)
This audio splitter is one of the best things I could have bought for my 11 year old because she was always sharing her ear buds with her best friends.
It would seriously gross me out when I would see her hand one ear bud to a friend so they could listen to the same song.
This audio splitter has 5 jacks so you can all listen to the same song from the same device but with different ear buds!
These are great for rides home on the bus when her and her friends are sharing the same ipod. Everyone plugs into the Rockstar and they can all jam to the same tune.
---
Superior Sound Quality in this Stocking Stuffer Gift
Skullycandy are the best ear buds because they fit so comfortably in the ear.  They are sweatproof which makes them really great for fitness.  For the price, you get a high quality ear bud.  The shape of the ear piece itself is so soft and squishy you can hardly notice it.
Skullcandy Womens Bombshell Earbuds
Skullcandy Sweat Resistant Earbuds
Skullcandy Sweat Resistant Earbuds
---
A fruit infuser bottle is a cool gift idea that she will find absolutely refreshing in every way.
There's something so delightful about drinking fruit-infused water and 11 year old girls think it's really fancy.
My tween uses hers all the time, we don't buy soda and fruit juices because they're terrible for the teeth and loaded with unnecessary calories she can get from better sources.
These are really cool bottles, you may even want one yourself after you see how awesome your 11 year old thinks it is!
---
These Small Bulbs Light Up with Lots of Big Color!
Color changing light bulbs were a huge hit for my tween daughter.  You can screw these into a regular light socket and they light up in different colors you control from a remote.  There are 16 different colors and small remote that will allow you to sit across the room and control the color of the light.
16 Color Changing Light Bulb
Color Change LED Light Bulb
LED Light Bulb with Remote
---
Cool Socks Make Awesome Stocking Stuffers for Girls
These are super cute socks that any 11 year old girl would love to have.  Most kids wouldn't want socks for Christmas – but these are not just any socks, they're cool, fashionable socks that are proudly worn.  There's knee highs and some short cute cat socks too – really inexpensive small gifts that you could roll up and put in a Christmas stocking.
Girls Animal Knee Socks
Cute Funny Cat Socks
---
Coin Purses will "Change" Your Life – Small Gifts with Purpose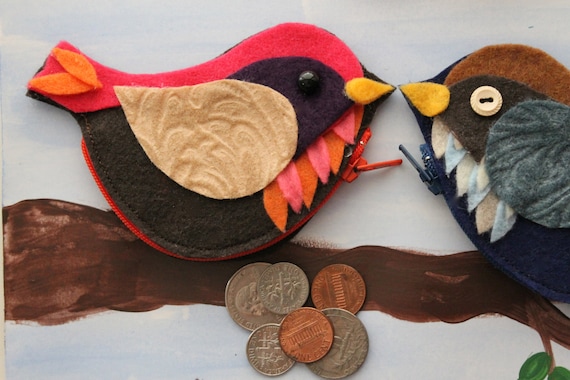 Bird Coin Purse
These little change purses are great for carrying around lunch money.
They are small, zippered coin purses with a purpose – to keep small amounts of money secure in one place.
My daughter uses her little change purse at school everyday, she also takes her offering in it to church.
Having a little place to keep her coins has been very handy, she keeps it in a bowl by the front door and I fill it up before she leaves for school or church.
---
Unicorn Stocking Stuffers for 11 Year Old Girls
If you 11 year old girl likes unicorns, she's going to love these small gifts.  I really don't need to explain that unicorns are popular to you if you have a tween girl in the house – unicorn farts, snot and socks make excellent small gift ideas.  Yes, I said unicorn farts and snot – we're talking about gifts for an 11 year old – you've gotta have farts and snot somewhere on the list for a giggle.
Unicorn Farts
Unicorn Snot
Unicorn No Show Socks
---
Inspirational Stocking Stuffers for 11 Year Old Girls
These rubber wristbands are Uber popular right now with the pre-teen crown.  My daughter is always coming home with new bracelets after trading them with her friends.  Kids collect them, wear them and trade them at school.  Having an arm full of wristbands is the "thing" now in tween fashion.
I AM Wristbands
Faith, Hope, Love Wristbands
Christian Wristbands
---
Small Gifts for 11 Year Old Girls They'll Actually Use
These are two very useful gifts for grooming.  My daughter loves her detangle brush because she says it doesn't hurt to comb her hair.  The head wrap is great because when she gets out of the shower, she doesn't have to have this dripping head of hair until it dries, she can wrap it up and her hair actually comes out really soft and defrizzed.
Detangling Brush – 2-Pack
Hair Drying Towel
---
A Classic Small Gift for an 11 Year Old Girl
Conair Quick Gems Hair Jeweler
This is one of my daughter's favorite gifts of all time.
The Conair Hair Gemer has been around since forever and it adds touches of bling to your tween girls hair in a really cool way.
The gems are totally reusable and there's 4 different colors (pink, purple, white and blue) and 4 shapes to choose from (heart, butterfly, star and flower)
Load the gems in the hair gemer and start putting them in your hair, easy peasy!  There is a place below the device to store extra gems so you don't lose them!
---
Hair Chalk Makes Rad Stocking Stuffers for 11 Yr Old Girls
All girls love a little hair color and these bright colors are really trendy right now.  The problem with dying your hair is that it destroys it but this chalk gives great temporary color without killing the hair.  At 11 years old, who doesn't want to add some blue, purple, pink and stuff to their hair? 
Hair Chalkers
Hair Chalk Set (No Gloves Needed)
Girl Zone Hair Chalk
---
Altoids Tin Toys are Unique and Handmade
I found these on Etsy and my daughter fell in love with them.  In addition to pre-made toys, there's also kits and patterns to create your own which I thought was cool. Look how neat these are, you can buy them pre-made, there all kinds of them to choose from. This gift will truly light up her Christmas morning I promise you, it's a handmade item that you just can't get at Walmart or Target, you know?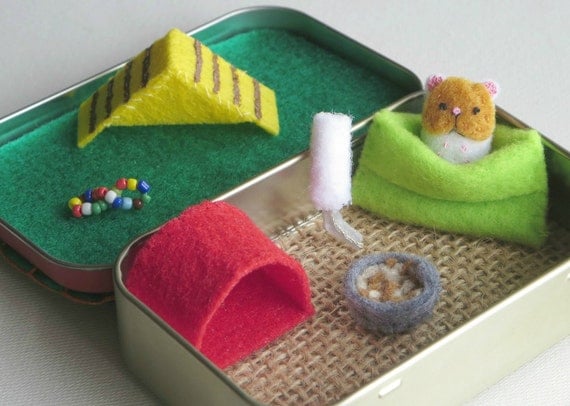 Altoids Tin Toy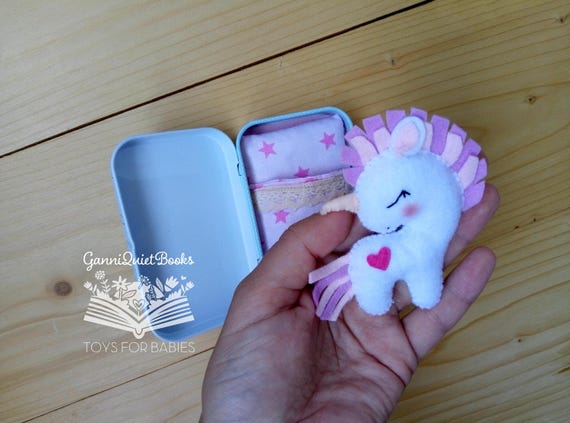 Unicorn Altoids Tin Toy
---
Beanie Boos Fit in a Christmas Stocking!
These Beanie Boos are super adorable little plushies that make the sweetest little small gifts.  My 11 year old collects them and she absolutely loves those big beautiful eyes.  These are three of her most favorite Beanie Boos, they're furry and cuddly and cute.
TY Beanie Boos Pixy
Ty Kiki Grey Cat Plush
Beanie Boos Rainbow Poodle
---
Small Gift Ideas for 11 Year Old Girls
Travel games are awesome to give as a small gift because they can be played just about anywhere.  Girls love the little mini game pieces in at this age and they're perfect for traveling.  We keep them in our van in the back seat organizer we bought.  The scavenger hunt card game is a great one for quick trips just about anywhere in town.
Travel Scavenger Hunt Card Game
Connect 4 Grab and Go Game
Pop-O-Matic Trouble Game
---
There's Always a Surprise Inside These Stocking Stuffers
Geode Rock Science Kit – Crack Open 2 Amazing Rocks and Find Crystals!
11 year old girls love to break their own geodes open because they love the bling inside.
Breaking open geodes is a fun little science experiment that girls this age love to do because they just never know what color crystals are going to be inside.
It's always a surprise to break these open and that's what makes them cool stocking stuffer gifts because you just never know what's inside your stocking until you open it. Both have treasure!
---
Brainteasers That Pay Off! Cool Stocking Stuffers for 11 Yr Olds
Gift cards and money are cool gifts, I don't need to tell you that – but how boring are they to give?  If I'm gonna give cash or gift cards, I'm going to make it fun on myself by putting it in one of these.  Watching them try to solve the puzzle for their gift is going to take longer than you can imagine and it's strangely awesome entertainment as a parent.
Money Gift Maze Brainteaser
Gift Card Brain Teaser
---
See Great Distances with This Small Gift!
Small Binoculars Compact Mini Folding: Perfect for Kids, Fits in Pocket, Premium Glass lens, Shockproof
Binoculars are probably one of the most useful gifts that no one ever thinks about.
Who couldn't use a pair to see farther? They're great for outdoors and girls love them as much as boys do.
They make being outside a lot more exciting because you can see off into the great distance.
This particular pair has exceptional long distance vision for a kids pair. They are shockproof and easy to grip, very small and lightweight – it fits in the palm of their hand.
---
Pretty Little Stocking Stuffers for 11 Yr Old Girls
These little trinket boxes are cute little places to store jewelry and other little treasures.  My daughter loves little boxes and she loves having a place to put things.  These are really pretty because they're all decked out with bling.  Ornamental trinket boxes are rarely expensive but they sure do look like they are.
Pineapple Ornamental Trinket Box
Berry Ornamental Trinket Box
Owl Ornamental Trinket Box
---
Cool Little Gifts for 11 Year Old Girls
Toysmith Color Click Pen
10-color pens are always a cool gift idea for an 11 year old girl and they're very inexpensive.
This one is my favorite because of the quality of the pen and ink. Sometimes you get these pens and they just don't work, but this brand seems to be really good.
This pen over-sized, easy to grip and loaded with beautiful ink colors.
The barrel color of the pen comes in purple, pink or blue.
---
Her Friends Will Be GEL-OUS of These!
You haven't lived until you've had gel highlighters in your life. You will never go back to a regular highlighter again I can promise you that.  These gel highlighters make studying something actually enjoyable – yes, I really said that because they do.  Light up the pages with color that never bleeds or soaks through!  The way they feel gliding across the page is like silky smooth..
Thornton's Gel Highlighters
No Bleed Gel Highlighter
Sharpie Accent Gel Highlighter
---
Portable Chargers Come in Handy A LOT!
These portable phone chargers are great for powering up on the go. If you've got smartphones, kindles, tablets and other devices for your 11 year old girl, these are great battery backup sources for them. They carry a lot of juice in them and they're small – perfect to take on the go with you places. I can't tell you how many times we've used ours. Every tween should have one if they have a smartphone because they can't always find places to charge their phone at school and in other social settings.
Poweradd Slim Compact Charger
Apple Lightning Charger
---
Tween girls are tough to shop for and that's why I like to give SO MANY ideas because they are all very different and you know what they would like best. I like just tossing out cool unique ideas that my daughter and I think of to help others put smiles on their kids faces.
I've also got a list of the top Tween Girl Presents to buy (they're not small like this list).
I've really got a gift list for all ages because they vary from year to year, right?
In addition to this stocking stuffer list, I have some other stocking stuffer ideas for you, also if you're doing Operation Christmas Child, these come in super handy too!