What Are The Best Christmas Presents For 6 Year Old Boys? See Tyler's Top Gift Guide!
This is Tyler's most awesome list of gift ideas for six year old boys his age.  We've put together one of the best gift guides for a 6 year old boy so anyone can buy for this age. If you're shopping for a 6 year old son, grandson or nephew – it's not always easy to know what to buy and that's why we put together the top products, toys and electronics to help guide you.
This is one of my favorite ages because they are learning so much and coming into their own personalities. These presents are going to keep them engaged and entertained – Tyler's got some amazing choices to show you.
---
Favorite Top Toys for 6 Year Old Boys 2018
I like to start with a few of Tyler's most favorite and then work down the page with other exciting gifts he knows a 6 year old boy is going to love.  Shopping for Christmas or a 6th birthday?  That's not a problem, you're sure to find something in Tyler's gift guide.
LEGO City Advent Calendar
Super Friends: Flying High
Binoculars
Big League Dart Blaster
Indoor Soccer with 2 Goals
Marvel Hedbanz Board Game
Roblox Punk Rockers
Marvel Pajamas
Roly Poly Farm
---
Marvel Hero Training Game
This is a good get up and move game for 6 year old boys because they're training to be Marvel Super Heroes! It's a really engaging game to play and you can't help but giggle and laugh. It's a really simple game that's easy to understand and really fun to play. The props that come with the game are cool and keep the game interesting.
---
Roblox Toy Figures
These are probably some of the most popular toys this Christmas for a lot of ages!  Tyler loves to play Roblox on the computer so much we have to really limit his time or he will play all day. These toys are great because it keeps them offline but he still gets to play Roblox – but with his imagination. He will sit in the corner of a room and play with these figures for hours, I can hear his imaginary talk and play and I know that's better than him burying himself on the computer.
Roblox Legends of Roblox Six Figure Pack
Roblox Work at a Pizza Place Game Pack
Roblox Punk Rockers Mix & Match Set
---
Light Up Tracing Pad
My 6 year old boy spends hours with this tracing pad. It comes with templates to use draw with and it's great for tracing a lot of things. It's really helped perfect his drawing skills at this age. It's a good light box for the price and you can use regular white copier paper with it when the tracing paper runs out.
---
Kids Fire Tablet
If you want to purchase a high quality tablet for a 6 year old boy, you can't go wrong with the Fire.  It's got the best of all world's because it's a kindle ebook reader too.  My son uses his to watch movies when we're on road trips, he plays Roblox on it with friends.  There's a lot of things this affordable tablet can do and it's got the protective case that comes on it and a 2-year replacement guarantee if it breaks, how awesome is that?
Kids Fire Tablet Blue
Kids Fire Tablet Yellow
---
Flashing LED Gloves
These LED gloves are so much fun, especially for making up dance moves in the dark (hello, Fortnite dances).  These affordable gloves light up different colors in the fingers, the batteries are included (and some back up batteries too).
The Noodley Children LED Fingers
---
Walkie Talkies
Every 6 year old boy should have a set of walkie talkies and these here are the best ones for their age. They are really intuitive and easy to operate. They have great range and a ring to let the other end know to pick it up. These will be a huge hit with any 6 year old boy, high quality 2-way radios perfect for this age.
Best Walkie Talkies For 6 Yr Old Boys
---
Vtech Smart Watch
This! This! This! It's such a cool smart watch for a 6 year old and the camera quality is AMAZING, for real.  I was so shocked at the quality of this watch because I wasn't really sure if it could hold up the beatings of 6 year old boys, but it has.  There's built-in games and video – there's so much to do and the battery lasts forever on a single charge, so it's great for road trips and places where they easily get bored.
VTech Kidizoom Smartwatch DX2, Blue
---
Dinosaur Collector Toy Box
Inside this collector box is an entire prehistoric scene to unfold and play with. It's a nice storage tote for all their plastic dinosaurs and it's cool play set to lay out for when they want to play. This is a good one for travel because it can get packed up and take with you on vacation. It's one of our favorite hotel / travel toys because it keeps all the boys busy.
ZipBin Dinosaur Collector Toy Box and Playset
---
Jurassic World Dino Race Track
This Jurassic World track is bendable so you can actually form it a lot of different ways (very similar to Magic Tracks).  There are a lot of other tracks you can connect this to build a full blown Jurassic World.  The cars are battery operated so they roll through the tracks on their own, super cool toys.
Jurassic World Dinosaur Toys Race Track
---
Hot Wheels Spin Storm Playset
This track is amazingly fast, it's been huge entertainment for all the boys in the house. The double loop feature is awesome to watch the cars go through over and over. It's a sturdy track and pretty easy to put together even with all it's moving parts.
---
Hot Wheels 4-Lane Elimination Race Track
This track is simple yet SO MUCH FUN, send four cars zooming down the track til only one is left at the end. Tyler loves to test out which cars he thinks will get shoved off first. The set up was so easy unlike some Hot Wheels tracks) and it was a huge hit with all the boys in the house.
Hot Wheels 4-Lane Elimination Race Track Set
---
Hot Wheels Marvel Avengers
These are the coolest Hot Wheels cars if your 6 year old loves Marvel Avengers (which mine does). They will be so excited to see these cars and the detail in the paint jobs is exceptional. Even older kids and grown men will appreciate them.
Hot Wheels Marvel Avengers Die-Cast Vehicle, 5-Pack
---
Matchbox Mission 4-Level Garage Playset
My son plays with this every single day. There's so much to do with this garage, especially considering it's so much cheaper than the Hot Wheels garage. There's an elevator, ramps, gas pump, levers and all sorts of parking spaces for your boys cars. It's such a sturdy toy and it doesn't need any batteries.
Matchbox Mission 4-Level Garage Playset
---
Hot Wheels Spider-Man Web-Car Launcher
A 6 year old boy can launch out his Hot Wheels cars at top speeds with this beauty.  Place the car inside and then hit the back fin and watch it come out the front.
Marvel Hot Wheels Spider-Man Web-Car Launcher
---
Shining Legends Pokemon Cards
This is a great Pokemon tin to buy a 6 year old, it's the best set for the best price and he pulled a secret rare mewtwo. My 6 year old loves to trade Pokemon cards with friends and this kit was a legendary purchase, high recommended for boys this age.
Pokemon SM3.5 Shining Legends Pikachu Pin Box
---
Pokemon Card Storage
Tired of finding Pokemon cards all over the place? 🙋‍♀️  Buy your 6 year old Pokemon fan a binder or carrying case so that they have a place to store their cards.  This is the age where you want to train them (not just for Pokemon battle) but for putting their stuff away where it goes.
Pokemon Pikachu 3-Ring Binder
Carrying Case for Pokemon Cards
---
Marble Race Toy
Marble race tracks are so much fun for 6 year old boys to build and play with! There are so many ways to create the track and it really gets them thinking strategically.
---
Boys Love To Build Forts
There is nothing better than building a cool fort! These different playsets include the connector pieces to build different kinds of forts.  After it's built, you can use sheets or blankets to drape over them to make it enclosed.  These are a lot of fun and take a lot of imagination to build.  It's one of our top gifts for 6 year olds!
Crazy Forts
Flexi Forts
Glow in the Dark Crazy Forts
---
Color Your Own Playhouse
These color your own play houses are great if you have an artistic type of 6 year old.  This will also keep them busy for a really long time because coloring it will take awhile.  Get yourself a good set of markers in a lot of colors, the fatter ones work best.  This is going to be one of those cool presents that they will get to play with and color!
---
Spirograph Junior
This is Spirograph Jr. and it's made with younger kids in mind. Tyler can operate it all on his own, everything is held into place on it's own making drawing simpler. It's small, uses half sheets of paper and is great for at home or on the go use. This is the PERFECT travel companion, everyone is getting some one-of-a-kind artwork now!
---
Drawing with Stencils
This is the best stencil set for boys age 6 because it has all sorts of shapes to trace including the alphabet, animals, cars, trucks, space stuff and more. It's fun to trace shapes and it helps fine tune those motor skills and develop better skills in drawing.  There are over 370+ shapes to trace in this set alone!
Stencil Drawing Kit w/ Carry Case 300 Shapes (Including Alphabet)
---
Melissa and Doug Diner
Playing restaurant is so much more fun with this seating set. What I like about it is all the details that went into it, right down to the jukebox. Watch how fast your 6 year old starts putting together his menu for this. It's a good quality little table area set that will get a ton of imaginary use anywhere you put it.
Melissa & Doug Star Diner Restaurant
---
Playing Store
Playing store is one of my boys favorite imaginary things to do… when they're not playing super heroes, they're having a good time playing store or restaurant. They like scanning and bagging and stocking the shelves for customers to purchase from.  This wooden little store here has all the little details kids love and it's easy to assemble and built to last.
Melissa & Doug Wooden Grocery Store
Melissa and Doug Fresh Mart Groceries
---
5- Minute Super Hero Stories
These 5 minute stories are perfect before bed or after school reading for a 6 year old boy. The graphics are really good, the stories are short, these make excellent non-toy gifts for 6 year old that he will love. Nice thing about books is they can open the right away, no fancy packaging to bust through.
5-Minute Marvel Stories
5-Minute Avengers Stories
DC Super Friends
---
LEGO City Monster Truck Building Kit
This Monster truck building kit is one of my son's favorites.  It's really simple to build, only 190 pieces and when it's done, you can drive it around, there's a little ramp and some fire to jump through.  It's one of our favorite Lego City sets because of the simplicity and little details.  A 6 year old doesn't want to spend all day building a Lego set, they want to build it and then play with it and that's exactly what this toy offers.
---
Good Lego Sets for 6 Year Old Boys
I speak from experience with this, boys will choose a Lego set that is way above them just to get a mini figure, so don't do that to yourself or them. They will be frustrated and you will have wasted a lot of money on a set that they can't complete.  Choose one of the smaller sets with less than 200 pieces because it will hold their attention long enough for them to complete it and then play with it.  These are a couple that Tyler has really enjoyed playing with and putting together.
Lego City Police High Speed Chase Set
Lego Super Heroes Captain America Jet
LEGO City Ambulance Helicopter
---
Toy Microscope for Kids
This has been a fun and educational toy because it shows them the basics of looking at things under a microscope and what they will find. The microscope identifies what is on each slide and tells him all about it.
Educational Insights GeoSafari Jr
---
40-Inch Hanging Swing
This swing is an easy set up and a good quality product that a 6 year old is going to love. It comes with everything you need to install it right away, no waiting, Tyler can lay across the whole thing himself or have his brothers on there with him. It can take up to 400 lbs of weight!
---
Marvel Captain America Blaster Reveal Shield
Every 6 year old boy needs a Captain America Blaster Shield like this in their life.  It hooks to their arm and fires foam darts.  It's the best shield ever to defend and avenge!
Marvel Captain America Blaster Reveal Shield
---
---
Marvel Avengers Bedding Set
Nothing excites a 6 year old more than sleeping in some Marvel Avengers bedding like this! Make this bedding the focal point of the boys room, he's going to actually WANT to go to bed! Top it off with some Marvel Avengers jammies and he will be all set.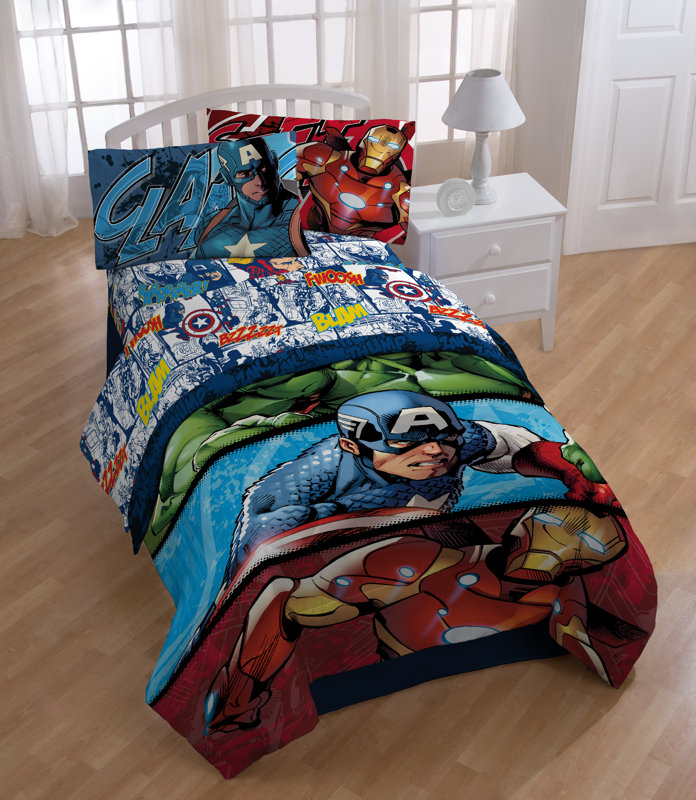 ---
Super Hero Pajamas
There's nothing cozier than a nice set of pajamas, especially in the Fall and winter months, here's some comfy fit boys pajamas that feature Super Heroes.  Most 6 year old boys, wear a size 6 (for those of you shopping for your grandson or nephews).
Marvel Universe Pajama Set
DC Comics Justice League
</
---
Plasma Cars are Fun
My 6 year old son loves to ride on this plasma car in the driveway and at the park. It's a self propelled little car they can steer all over the place. Even the older kids dig this one. They will enjoy riding this thing for hours on end, it's going to be their favorite. It also works inside if you have hard floors and some space like we do.
---
Boys Scooter with Light Up Wheels
This is the absolute best scooter for boys this age, it's even got a removable seat to use. The wheels light up as the roll around on it. The wide base is perfect for maintaining balance. It runs so smoothly over uneven and bumpy surfaces. Great, great scooter for a 6 year old boy who is just learning how to ride one of these.
---
Active Toys for 6 Year Old Boys
These are some of Tyler's favorite toys to play and keep busy. The Adventure Kidz set has all binoculars, a compass, whistle, flashlight and magnifying glass! The tag game and stomp rockets are perfect for play dates with friends.
Diggin Active Dodge Tag
Stomp Rocket Stunt Planes
Adventure Kidz
---